100% Personal Attention! 100% SUCCESS!
DIKSHA - THE LEADER IN
TEST-PREP & TRAINING!
 An Initiative by alumni of Cambridge University & IIT  Bombay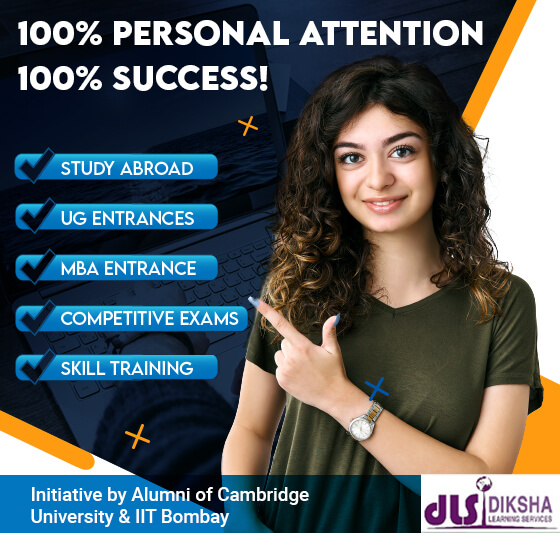 Diksha Vantage' is the key-point representation of the pedigree, methodology, and philosophy that empowers DIKSHA to stand out tall and true to our motto of "Delivering Success". Being true to the heritage and essence of the "Diksha", we have focused all its resources in making the lives of our learners more successful through process-based academic/ training support, personal mentoring, and professional enhancement.
Vrishank Sarbajna
2023-05-23
One of the best learning centres for NCHMCT JEE in Kolkata. I joined and in only two months I was well prepared for the exam and needless to say,my exam went immaculately smooth. I am still awaiting my results.
Sourajit Boral
2023-04-16
I chose Diksha for my preparation in NCHMCT JEE. I was provided with the study materials which were of great help. The faculty members were great. They helped me whenever I had doubt in any particular topic through WhatsApp/Phone call. The staff members were so supportive. They also provided extra classes and Mock Tests. I would rate ⭐⭐⭐⭐⭐ Glad to choose Diksha and would highly recommend.
Ritika Banerjee
2023-04-13
The whole faculty is very cooperative, cordial and helpful. I have mostly enjoyed my maths and reasoning classes here. The whole surrounding is very positive and supportive. I would like suggest people to join this institute especially the ones who are targeting for cracking the competitive exams in a short span of time. They prepare you totally for the exams in the best possible way.
Chandreyee Dey
2023-04-10
Very enriching courses with end to end guidance from experienced faculty.
Shreya Dasghosh
2023-04-08
Good guidance. Overall good experience. Recommended place to ace any entrance exam.
Sayandeep Sengupta
2023-04-08
The classes are awesome .. Teachers are very cooperative
It is a very nice institution.Experienced teacher.Good explanation
Rajdeep Karmakar
2023-04-04
Very experienced teachers and so many movi tests
A very good coaching center and they have very good and encouraging teachers. They provide study maritals for every subjects. Teachers are aslo available for us through what's app. I personally liked it.
What Our Students Say About Us
"Choosing Diksha Learning Services for my GRE Test-Prep had been a perfect decision. Not only did I receive a concise and relevant study material, but also I got correct guidance at every step of my GRE preparation. I received an ultimate GRE study plan customized to suit my working hours. DIKSHA provided a highly comfortable atmosphere in a small batch where I was encouraged to voice my doubts and the faculty would take extra effort to address them in a systematic and methodological manner. The faculty at DIKSHA are experts in their own area, are thoroughly professional and extremely helpful. Studying for GRE became a lot easier for me because of the guidance I got from DIKSHA."

Soumi Chattopadhyay
GRE Score : 317
My association with Diksha has been regarding my IELTS preparation. DIKSHA is not just another institution for learning, but it has also been my leading light which has guided me in the right direction quite accurately to achieve success in both IELTS General and Academic modules. With Regular practice and adequate amount of valuable study materials provided, I got seasoned to crack IELTS exams with the desired scores. Infinite credit goes to the immensely dedicated faculty of DIKSHA that encourage students, give quintessential tips, explain pattern of examinations throughout your time here. I am also earnestly grateful to the coaching staff and administration here for their consistent support. I recommended a friend of mine to study here for IELTS and he also cracked the exam with elan. Good Luck to DIKSHA and all the best to other students of DIKSHA as well for their future endeavours.

Farzaan Ahmed
IELTS Score: 8
"I had enrolled myself at Diksha Learning Services Pvt. Ltd. for a 2-Year Test-Prep program for Law Entrance examinations. The extremely helpful and caring nature of the faculty members at Diksha Learning Services, effective mock tests and the study materials provided by them, were instrumental in helping me secure 1st Rank in Calcutta University B.A.LL.B entrance examination, 2017. In a nutshell, my experience at Diksha Learning Services was truly a memorable one and I cannot thank them enough for their unwavering support throughout the preparation process."

Atreya Chakraborty
1st Rank, B.A.LLB Entrance Exam (Calcutta University, 2017)
"The one thing I would like to say about my GRE and TOEFL preparation at Diksha Learning Services is that the approach of the faculty and mentor is always student specific. First they assessed my weak areas and then continuously slogged along with me to improve those so that I can achieve my target score. Besides, through continuous assessment and doubt clearing they also ensured that I am fully prepared for the exams. I owe my scores in GRE and TOEFL to the commitment and guidance of my mentor and faculty at Diksha. Thank you!"
Sarbojit Basu
GRE: 310, TOEFL: 100
"Diksha Learning Services is the best institute for GMAT preparation in Kolkata. The faculty and the staff of the institute work tirelessly to guide the students at every step of the exam preparation. They have one of the best faculty and mentor in town who himself has scored 740 in GMAT and knows the exam in and out. Besides, they also work with the students in terms of MBA Admission guidance. If you are looking for a mentor/ guide who would be with you throughout your journey of MBA Abroad admission and beyond that as well, Diksha is the GO-TO Institute in Kolkata."

Debasish Bose
GMAT: 730, TOEFL: 108
Really happy to have joined Diksha's MAT/ MBA Entrance Test Prep course. Great faculty, very student friendly and abundant practice materials.The major highlights which I felt really helped me to get a great score in MAT were the individual care, one to one doubt clearing sessions and the online mock tests. I'm truly grateful to DIKSHA!
Sunayana Kole
IISWBM (2022 - 2024)
Finding Your Right Courses